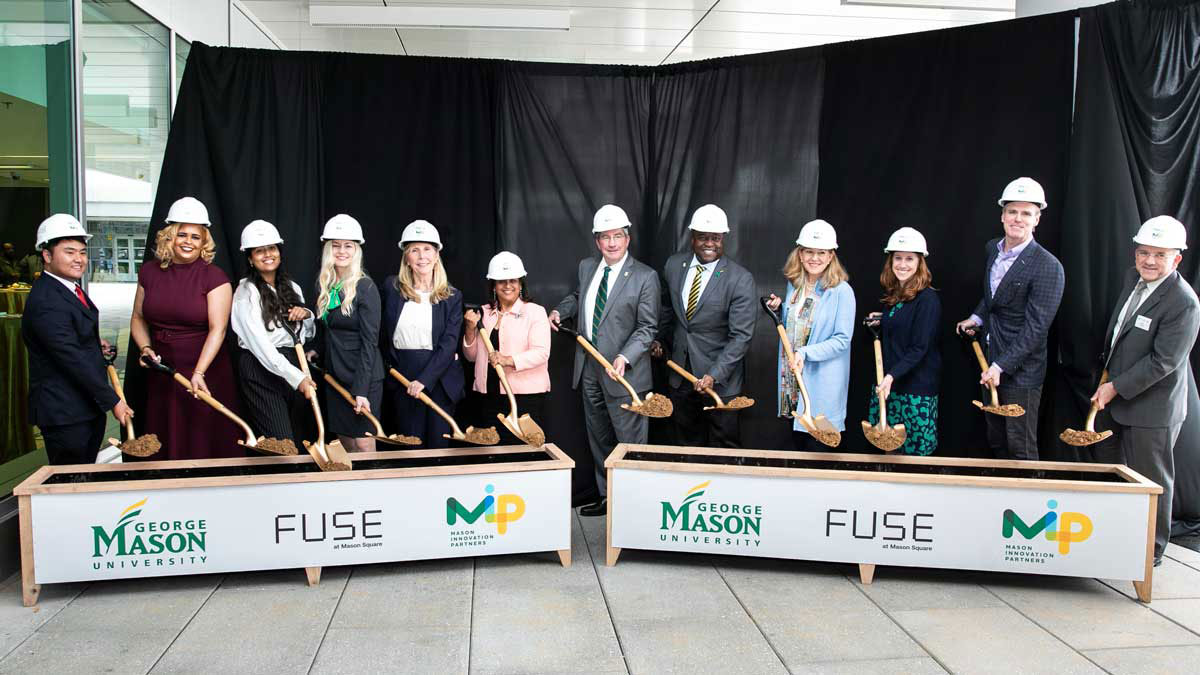 George Mason University officially welcomed a new era in Arlington with Wednesday's groundbreaking ceremony for Fuse at Mason Square, which will serve as a technological hub in the Rosslyn-Ballston corridor connecting students, faculty, industry and government.
Mason President Gregory Washington joined a slew of elected, industry and university officials in celebrating the start of construction of the new 345,000-square-foot facility that will embody Mason's commitment to Northern Virginia's next-generation workforce.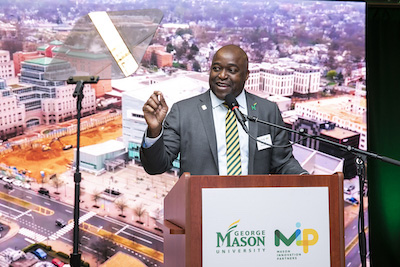 The building is slated to open in 2025.
"We are not just breaking ground on a building—we are truly breaking ground on Virginia's future," Washington said.
The first-of-its-kind building will bring together the public and private sectors in a collaborative alliance to address the world's grand challenges.
"We're all looking forward very much to see the institutional growth here, the people who will gather and collide here, and the innovations that will emanate from here," said Paul Misener, Amazon's vice president for global innovation policy and communications, and a Mason law school alum. "If this were a book, I'd love to turn the pages ahead a few chapters and see where all this is going, but I'm confident that you are all on the right trajectory."
Other speakers in the roughly 90-minute program included state Secretary of Education Aimee Rogstad Guidera; Mason Rector Jimmy Hazel; Mason Board of Visitors member and President's Innovation Advisory Council member Dolly Oberoi; Arlington County Board Chair Katie Cristol; Mason students Maya Chatterjee and Jared Ponmakha; Clark Construction Group Senior Vice President Dave Tacchetti; Mason Senior Vice President for Administration and Finance Carol Kissal; and Jamie Martin of Mason Innovation Partners. Trishana Bowden, Mason's vice president of advancement and alumni relations, served as the program's host.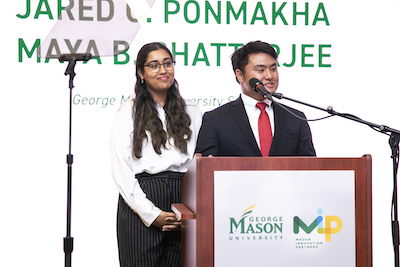 Fuse at Mason Square will serve as the home to faculty and students working with the Institute for Digital Innovation (IDIA) and its partners, as well as graduate programs within Mason's new School of Computing.
The collaborative effort is designed to promote digital innovation, active learning and cutting-edge research in the presence of business entrepreneurs, tech incubators, and education and policy makers.
Developed in partnership with Mason Innovation Partners, led by Edgemoor Infrastructure and Real Estate, Fuse at Mason Square will be a LEED Platinum, smart, net-zero-ready building with Fitwell 2-star and RELi resiliency. It will feature a green roof for energy-efficient heating and cooling, an agile floor design to enable responsive team or project growth, and specialized labs for robotics, virtual reality, simulation, security and data visualization.
Other amenities will include community seating in a double-height atrium, a 750-seat theater-style multipurpose room, retail, a public plaza and a below-grade parking garage, making it a natural gathering place for the campus and nearby community.
This Arlington expansion supports the state of Virginia's Tech Talent Investment Program (TTIP), a 20-year program designed to produce more than 25,000 additional graduates in computer science, computer engineering and software engineering.
"Fuse at Mason Square will rise into the Arlington skyline," Washington said, "and one day, it will actually greet the 22nd century."